Publications 2021/2022
Boeken - Books
- Petra Broomans, Mathijs Sanders, Jeanette den Toonder (eds.) Assistant editor: Elise Bijl, Literary Prizes and Cultural Transfer. vol 9 in the series Studies on Cultural Transfer and Transmission (CTaT), Barkhuis Publishing, Groningen, 2021.
See: https://www.barkhuis.nl/product_info.php?products_id=275&fbclid=IwAR2LdyRz9Rrj07hkghK9jiHnfsA_
6OaHAnFZrMttFLbAKPelpEDEkblh1to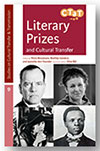 Hoofdstukken in boeken - Chapters in Books
- Petra Broomans, Feng Duan and Andreas Hedberg, `Views on "World Literature": Cultural transfer and translation in the context of an Online International Exchange (OIE) project - A case study of China, the Netherlands and Sweden'. Beyond Babel. Scholarly organizations and the study of languages and literatures (ed. by Tom Clark. Ass. ed. Paddy Gordon), FILLM Studies in Languages and Literatures:18. Amsterdam/Philadelphia: John Benjamins Publishing Company, 2022, p. 77 - 95.

- Petra Broomans, "Holger Drachmann in het Nederlandstalige gebied - Een voorbeeld van mislukte cultural transfer". Vagabond. Festschrift Henk van der Liet (eds. Suze van der Poll & Arjen Versloot). Amsterdam: Amsterdam Contributions to Scandinavian Studies: Volume 9, 2022, p. 11 - 33.
- Petra Broomans, "Migration and Loss of Identity in Linnea Axelsson's Ædnan. Epos (2018)". In: Migration and Identity in Nordic Literature (eds. Martin Humpál, Helena Březinová). Prague: Studia Philologica Pragensia. Karolinum Press, 2022, 129-141.
See: https://karolinum.cz/knihy/humpal-migration-and-identity-in-nordic-literature-26420
and: https://directory.doabooks.org/handle/20.500.12854/90027
- Petra Broomans, `Literary and Translation Prizes in the Cultural Transfer Process. The Path Towards Ultimate Consecration'. In: Literary Prizes and Cultural Transfer. Petra Broomans, Mathijs Sanders, & Jeanette den Toonder (eds.). Assistant editor: Elise Bijl. Groningen: Barkhuis Publishing, 2021, 17-43. See: https://www.barkhuis.nl/product_info.php?products_id=275
- Petra Broomans, 'The Meta-literary History of Cultural Transmitters and Forgotten Scholars in the midst of Transnational Literary History', Cultural Transfer Reconsidered. Transnational Perspectives, Translation Processes, Scandinavian and Postcolonial Challenges (eds. Steen Bille Jørgensen and Hans-Jürgen Lüsebrink), Brill / Rodopi, Approaches to Translation Studies. Volume 47, 2021, pp. 64-87.
Doi: 10.1163/9789004443693_005
See: https://brill.com/view/title/58271?rskey=EuWNte&result=1
- Petra Broomans, 'Het visioen van de dichteres. Een van de mooiste gedichten uit de Edda. 'Voorspelling, ordening en noodlot', Great Poems. Houden van beroemde gedichten. Red. Julie van Pelt en Koen De Temmerman. Academia Press, 2021, pp. 132-154.
- Petra Broomans, Nawoord bij August Strindberg, De Vader. Treurspel in drie bedrijven. Vertaling door Cora Polet, Wilde aardbeien, 2021, pp. 75-89. See: https://www.svin.nl/webwinkel-wilde-aardbeien/categories/de-vader-treurspel-in-drie-bedrijven-2021/
Artikelen - Articles
- Petra Broomans, 'Geachte Simon Vestdijk' (over o.a. Amy van Marken en de gemiste Nobelprijs voor Vestdijk), Vestdijkkroniek. Herdenkingsnummer 50ste sterfdag van Simon Vestdijk, 2021:137, 2021, p. 54.
Internet

- Petra Broomans, 'Ballet in the Nordics', in Nordics Info, part of the University Hub Reimagining Norden in an Evolving World, Aarhus University, ISSN 2597-016X, 2019. See for my articles: https://nordics.info/show/artikel/ballet-in-the-nordics/